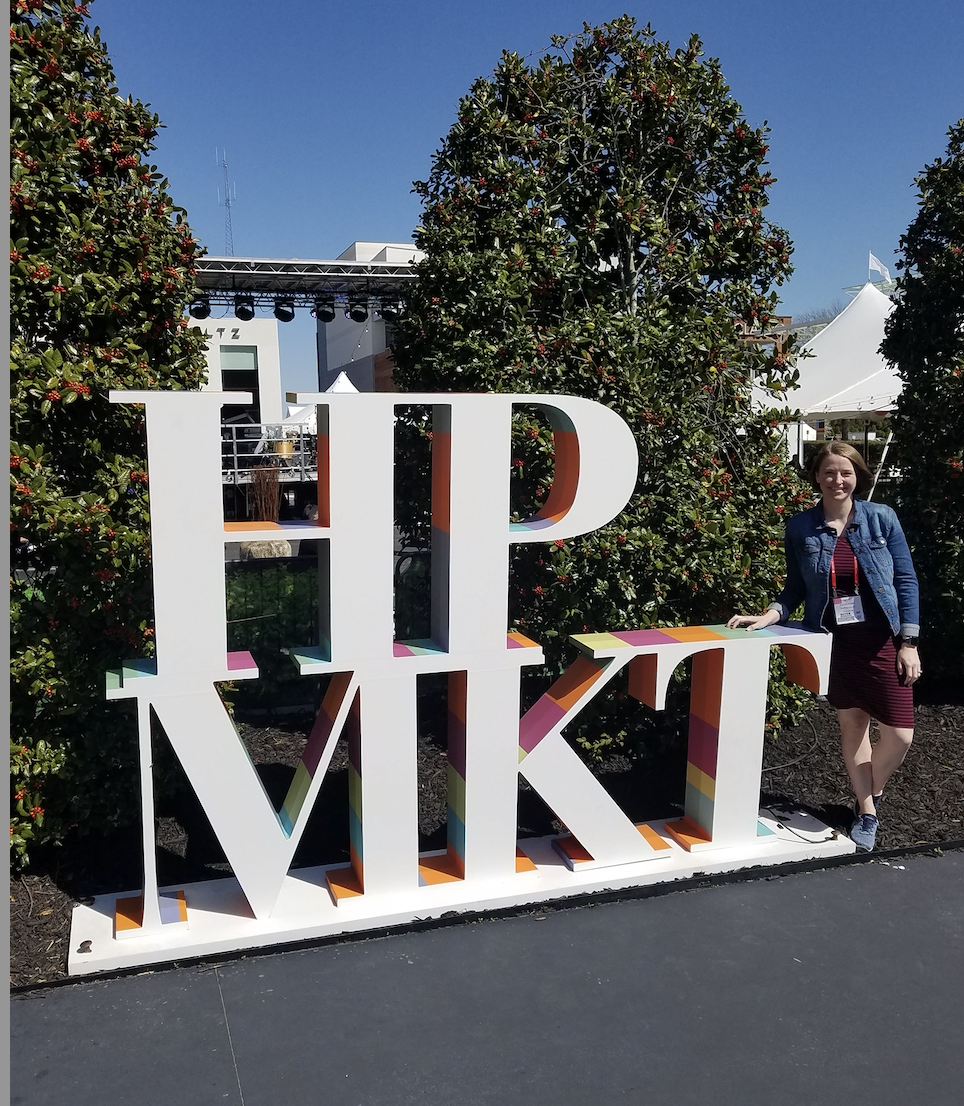 High Point Market is BACK! Twice a year market provides renewal, inspiration, and a breath of fresh air. The Spring 2022 market did not disappoint. After all the cancellations, postponements, and limited attendance due to the Coronavirus, this market was truly the revitalization that the attendees wanted and needed. As soon as your arrival at the main terminal you could feel the kinetic vibrant energy flowing!
The main trend that was apparent at market this spring was natural opulence. Whether it was the use of reclaimed/natural materials, weathered finishes, flowing curvatures, botanical prints, or nature inspired color palettes, there was not a shortage of nature's most shining aspects on display.
It was as if the market was following the budding blooms of Spring. Every corner, nook, and cranny of the market was beaming with brilliance! Here are just a few highlights:

Chaddock Furniture is well known for their made to order American craftsmanship with beautifully pieces spanning from applications in a dining room, bedroom, and /or living rooms.
Their showroom this season had a wonderful balance of bright and airy color schemes mixed with the natural textures of canning, burlap, floral motifs, and faux shagreen drawer fronts. Each vignette as you walked through their showroom provided a relaxing and lively atmosphere that just made you smile.
The Emma swivel chair below was a standout in terms of its curvature, style, comfort, and customization. It has the option for a four-leg base, plinth base, or the shirted base shown below.

Phillips Collection is a prime example of sustainable organic luxury furnishings. This manufacturer puts forth the best attributes that nature can provide in contemporary functional ways. If you have not yet become acquainted with this manufacturer, you will be in awe of the innovative combinations! Most of their pieces are one of a kind, but they are most certainly prized items for any room design.
Below is one of their beautiful Cantilevered Console Tables, Copper Birch Leaf Wall Art Collection, Amethyst Accessories, and Framed Side Tables.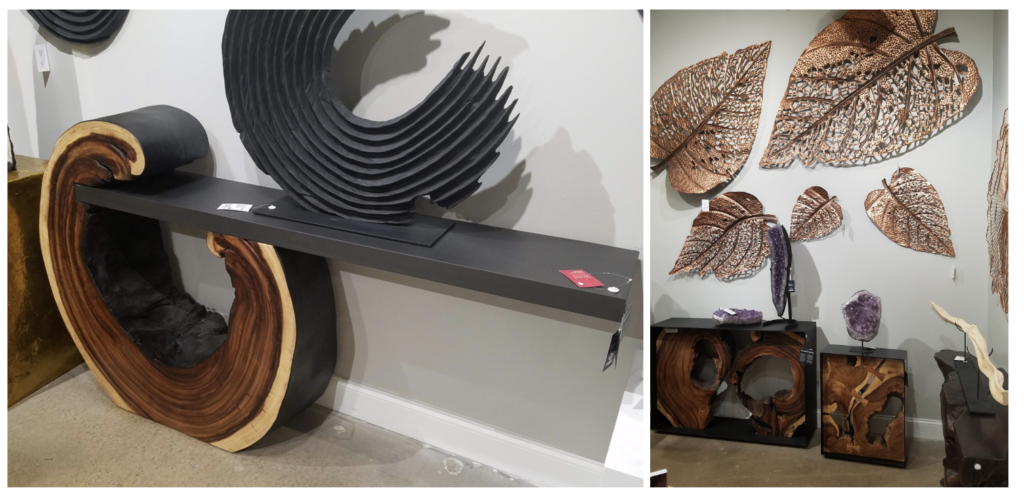 Thibault while best known as the oldest wallpaper company in the United States, they have also made a name for themselves with their fabrics and custom fine furniture. Their showroom always provides fresh interpretations of classic style with color schemes that are invigorating to experience.
The book matching of the botanical print on these adorable Ashby swivel chairs just shows the top-notch level of detail that this 'to the trade only' manufacturer provides. As a side note, the Ashby also can come with a swivel four-leg base option.

Currey & Company, Inc. has always exemplified the beauty of nature within their showroom. Each item within their offering shows respect for the past while utilizing natural materials/motifs and touchstone detailing to provide a truly remarkable piece. When you walk through their space, you can not help but gain a boast of creativity energy flowing from one item to the next.
Below is the Tropical Grande floor lamp, the Hymachal Pot (comes in a set of 3 varied sizes), and the Agave Americana Silver wall scone which comes in a gold leaf finish as well, plus there is a stunning chandelier within this collection.

Libeco Inc. is among some of the largest weaving linen mills in Europe and they are one of only six weavers around the world that may carry the Belgian Linen quality label. They truly are built with sustainability at the heart of the company, utilizing raw materials such as flax and linen.
It does not stop there; they also choose the most sustainable methods to create the smallest ecological footprint they can. The hand of each of their products is sensational. It makes you want to curl up and enjoy a delightful book.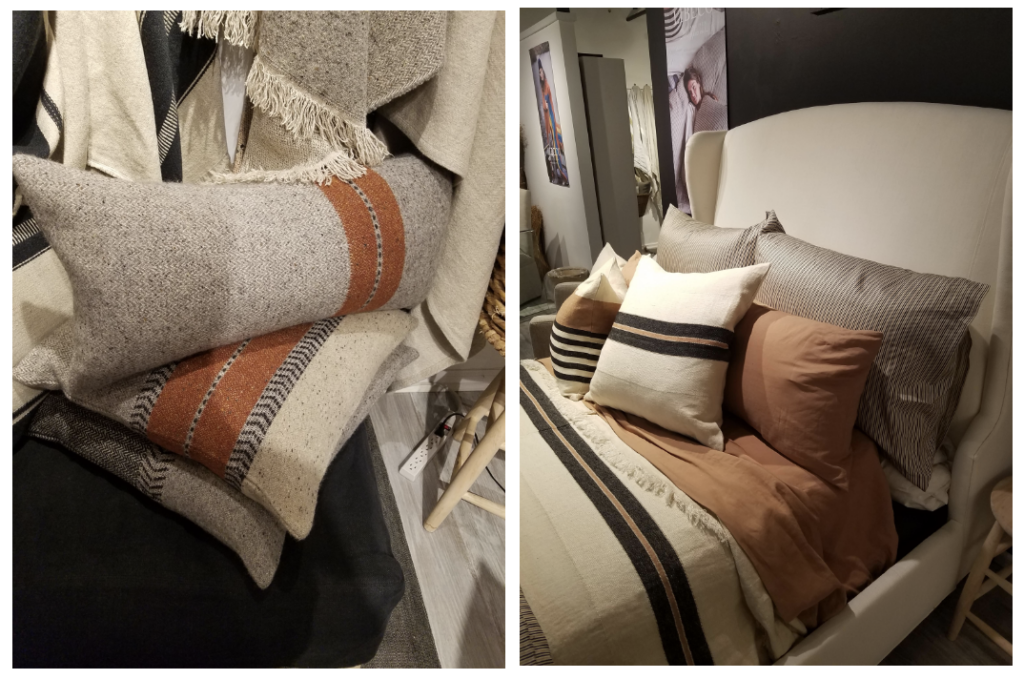 Cohab Space is one of my absolute favorite outlier showrooms at High Point Market. I always save them for last because they are the most welcoming group exhibiting some utterly amazing makers and artists.
They showcase furnishings, lighting, accessories, and artwork that are a "MUST" see! Some of the names you will see in the market space are Clubcu, Blaxsand, Noorside, Kamiya Furniture, Design Build Found, Beacon Custom Lighting, Jon Rollins Studio, and Making Whole.
Below you will see (3) pond pendants from Beacon Custom Lighting over a 16' timber table built by Design Build Found. The reflective pond drop patterns on this beautiful table is breathtaking.
Also below is a wonderful piece by Kamiya Furniture. All of their pieces are made with no nails, no screws, and no stain. Seriously skillful thought and craftsman ship for their pieces. Last but not least was a Gununhan table lamp by Noorside.
This piece is constructed from salvaged ironwood railway tiles, but honestly my favorite part is their innovation in combining a sleek streamlined LED housing inside the linen shade. It is beautiful, sustainable, and energy efficient. What could be better?
Hope you were able to find some inspiration and gain a breath of fresh air from some of these wonderful highlights! Let us know your thoughts on the current trend.
Do you like it, love it, or not for you? Also, let us know if you have any sourcing questions. We would love to hear from you!
All the best! – Emily Burroughs DSA Team