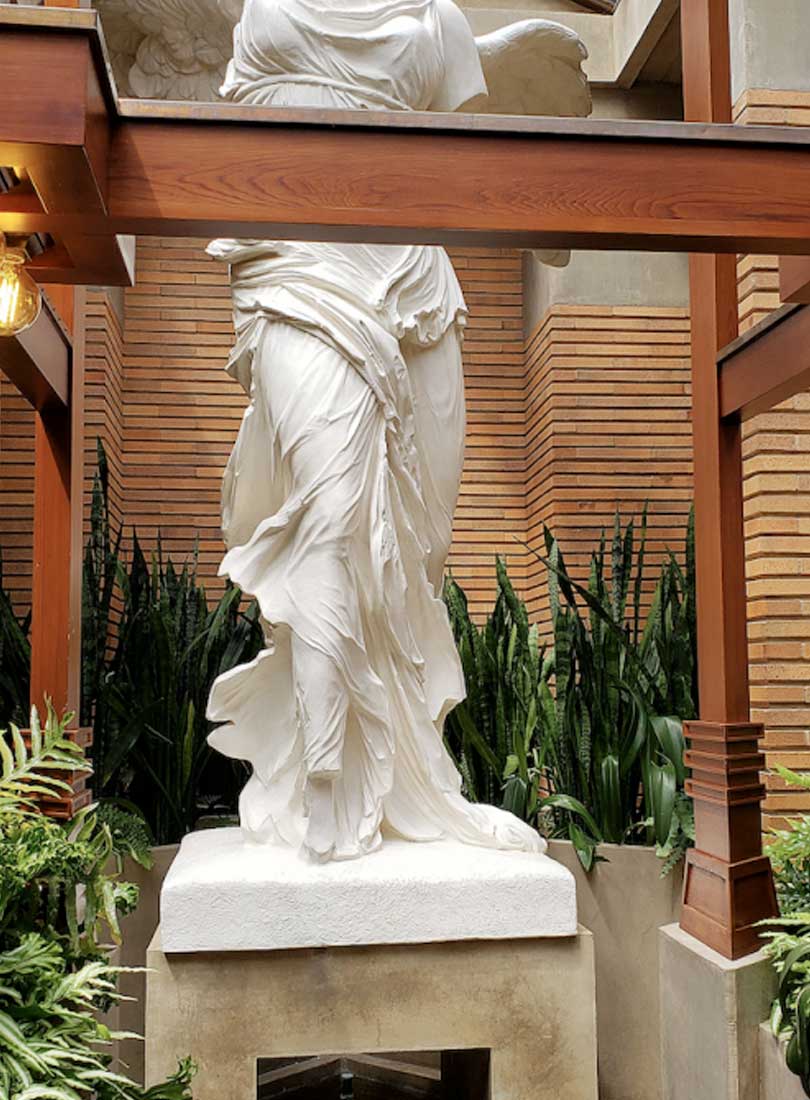 Article and photo of Winged Victory of Samothrace Statue
by Lydia Nicholson Kimler, MS Interior Design
Minimalism is a very popular trend in design. Minimalists can all tell you, the designer, they don't like clutter. They want an environment that is simple but works for them. Translation: "Form follows function," the renowned Chicago architect Louis Sullivan said in 1896.
Usually when people think of modern design, they don't think back to the late 1800s, but that is really a beginning point of this simplistic style. Frank Lloyd Wright was a Sullivan protégée. When Wright launched out on his own in 1893, he kept Sullivan's influence in his residential designs.
Wright's interpretation of what the ideal should be was a stark contrast to Victorian, the prevailing style of the time. Victorian was the dominant style into the 1900s, making Wright's houses distinctively different and almost odd in comparison.
What made Wright's designs different were his mindset of beauty in simplicity, harmony with nature and unity of materials. Victorian architecture and furniture had a dominant vertical line with as much ornamentation as could be applied.
For example: gingerbread carvings on wrap-around porches; fish-scale shingles on portions of roofs; turrets; multiple paint colors on interiors and exteriors; multiple rooms with many accessories; wallpapers, etc.
Wright's "organic" designs had a dominant horizontal line, to hug the earth, with little or no ornamentation.The natural beauty of the raw materials was exposed. For example, he eschewed paint on the furniture, preferring instead to stain and wax the wood to enhance the grain and color.
Wright designed built-in furniture pieces to blend with the structure. Victorians had individual furniture pieces with the mindset "the more, the better," so rooms looked full. Wright wanted space so the rooms looked open.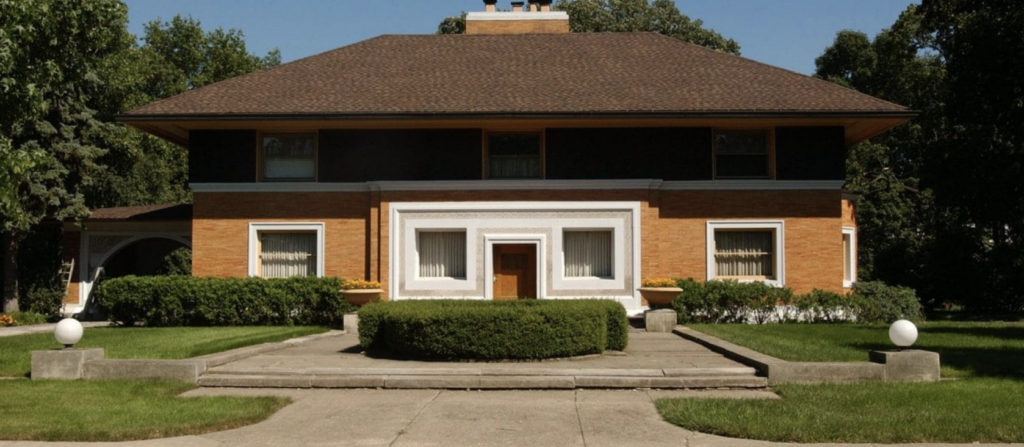 His first commission on his own was the William Winslow House in River Forest near Chicago, 1894. The house is still privately owned. Wright called it "the first prairie house," a nod to the name he gave to a style he developed and called "Prairie School." It reflected Wright's reverence for nature and what it could teach us.
For example, features of Prairie School Architecture were low-pitched roofs such as low hip, dominant horizontal line of the facade and interior features, use of natural materials usually indigenous to the area of construction, neutral backgrounds with small bursts of colors (e.g., pillows on neutral sofa), three-dimensional art, and fountains and fireplaces incorporated into the interior and exterior spaces.
This type of architecture also highlights Frank Lloyd Wright's vision of bringing the outdoors inside by including features such as small gardens, fresh-cut flowers in vases, and conservatories as part of the house. Often, large expanses of glass were used to bring natural light and a view of the outdoors, into the interior.
Frederick C. Robie House (1908) in Chicago is perhaps one of Wright's best Prairie School homes and is listed in the UNESCO (United Nations Educational, Scientific and Cultural Organization) World Heritage Center properties. See whc.unesco.org/en/list/1496
Another Wright commission, The Darwin D. Martin House (1903-1905) in Buffalo, NY, has Prairie School Architecture characteristics from the list above. A dramatic feature in this house starts at the glass front door, where visitors can see down a very long corridor which culminates at a conservatory.
The focal point is a reproduction of the statue of Winged Victory of Samothrace (about 2nd century B.C.). There is a fountain at the statue's base. (see below)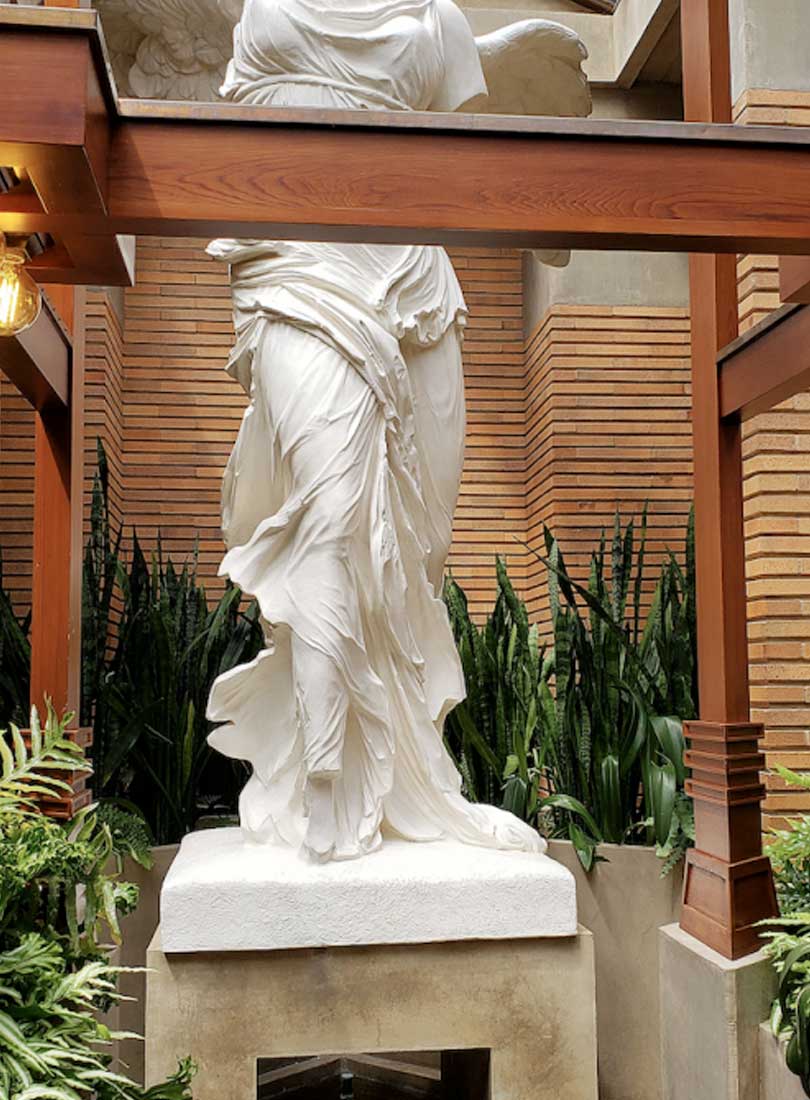 In 1909, Wright was exhausted and emotionally restless after years of pouring out his creativity. In a rather scandalous move, he left his wife and family in the Chicago area and traveled to Europe with a new companion, Mamah Borthwick Cheney, the spouse of Wright's client Edwin Cheney.
While in Europe, Wright wrote and published architectural ideas that gave him international recognition. He influenced other architects such as Mies van der Rohe of the Bauhaus in Germany — architects who were developing innovative designs for furniture and structures.
Wright and his companion returned to the United States in 1910, but he was socially shunned because of the affair. The two settled in Spring Green, Wisc., where his mother, Anna Jones Wright, gifted him some family land. There, he began building his first living laboratory of architectural design, a house he dubbed Taliesin, a Welsh word meaning "shining brow."
Taliesin was constantly under construction as Wright experimented with materials, shapes, and style. Tragically, in 1914, Mamah, her two children, and four others were killed in that house in an attack and fire started by an angry employee.
Wright was away in Chicago at the time but returned quickly by train. The house was damaged extensively but the fire left the design studio untouched. Acknowledging his personal-life shortcomings, Wright said, "God has judged me as a man, but not as an architect." See https: flwright.org/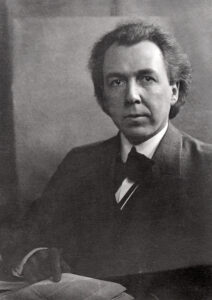 Through his travels to Europe and later Asia, Wright subsequently began to transition and refine the elements of his new domestic vocabulary: earth, fire, water, and the dome of the sky.
All these elements were in part or whole, integrated into his Prairie House style of architecture. A new component emerged in the 1920s with his invention of a concrete-block system of construction.
A good example can be found today in the interior and exterior walls at the Biltmore Hotel in Phoenix, Ariz., which Wright had a hand in designing from 1928-1929.
These concrete blocks were the perfect integration of art and nature; earth and structure became one. The ornamentation was the structure. See below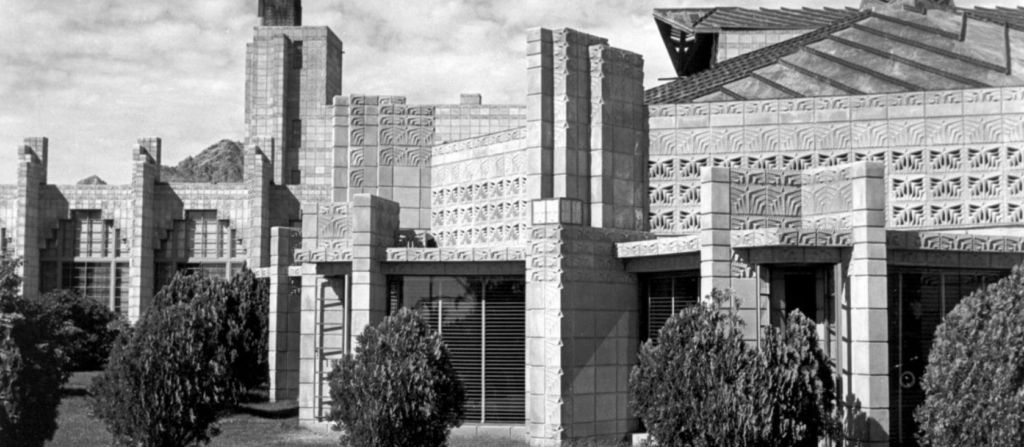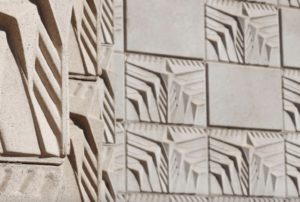 Usually, Wright would develop new ideas when working on a commission; this happened with the iconic home he dubbed Fallingwater, in western Pennsylvania.
Built in 1935-1937 for businessman Edgar J. Kaufmann, the structure is built into a hillside and over a river at the edge of Bear Run. Wright used that river to circulate cool air through a hatch and into the house — a free air-conditioning system!
He integrated the area's natural stone into the walls, too. Fireplaces brought a warmth into each room where they were located. Large expanses of glass brought the view of the sky into the interior, melding outdoors with indoors.
This project was one of his best uses of his concepts of architecture which utilized earth, fire, water, and the dome of the sky. See fallingwater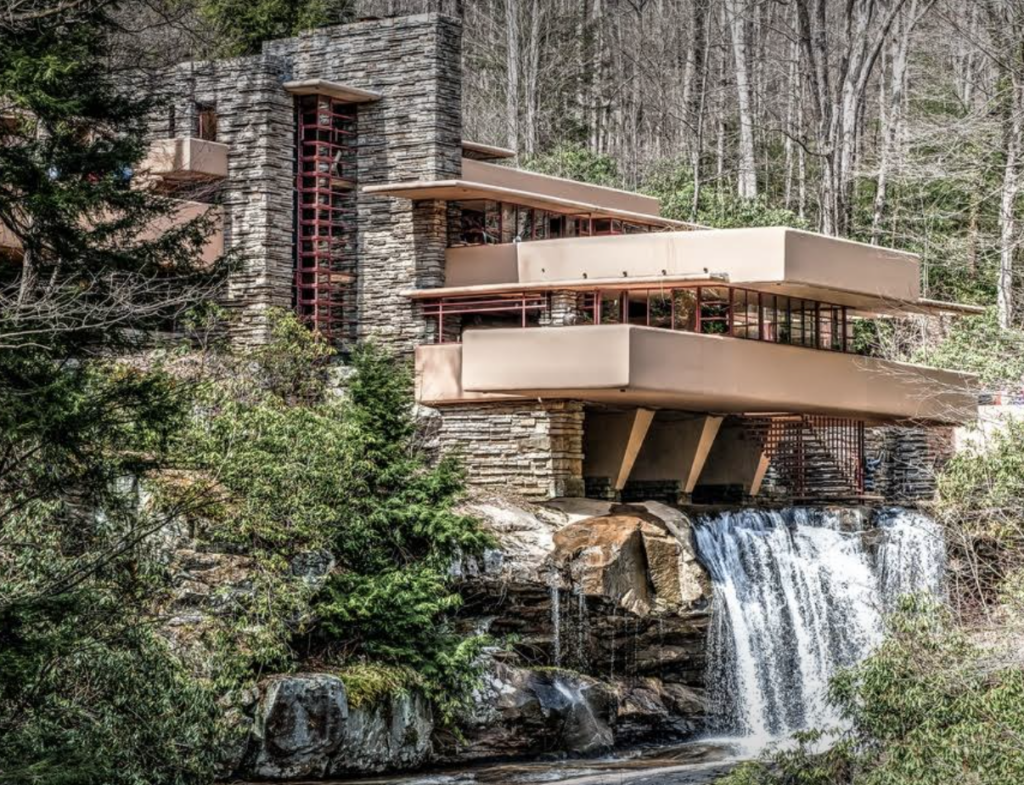 In his latter years, Wright contracted a severe case of pneumonia; his doctor recommended that he flee the cold, brutal winters of Wisconsin and live in a warmer clime.
With his third and last wife, Olgivanna, and architectural apprentices, the aging architect headed to familiar territory, Arizona, where he had done work on the Biltmore Hotel years earlier. He purchased rugged land in the foothills of the McDowell Mountains in nearby Scottsdale in 1934 and began work on what he called Taliesin West.
This became a living laboratory of architectural design just like the Wisconsin site. Among the many innovations there, Wright experimented with floor lighting and track lighting. His ideas later evolved into illumination used in theaters and airplanes. Significantly, none of his innovations were patented.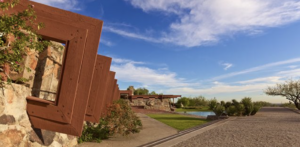 Frank Lloyd Wright and his apprentices worked fall and winter months in Arizona and returned to Taliesin/Wisconsin in spring and summer.
These last years, Wright invented a system of quick, standardized block construction that came to be known as the Usonian Automatic method; this was ideal to meet the housing demands of veterans returning from war.
Wright had more commissions between the end of WWII and the year of his death, 1959, than any other time. He died at the age of 91 near Taliesin West.

For more information, see franklloydwright.org/frank-lloyd-wright/
Lydia Nicholson Kimler is a DSA member and retired National Board Certified Teacher in the Hillsborough County, Fla., School District. She has a master's degree in Interior Design from Florida State University.