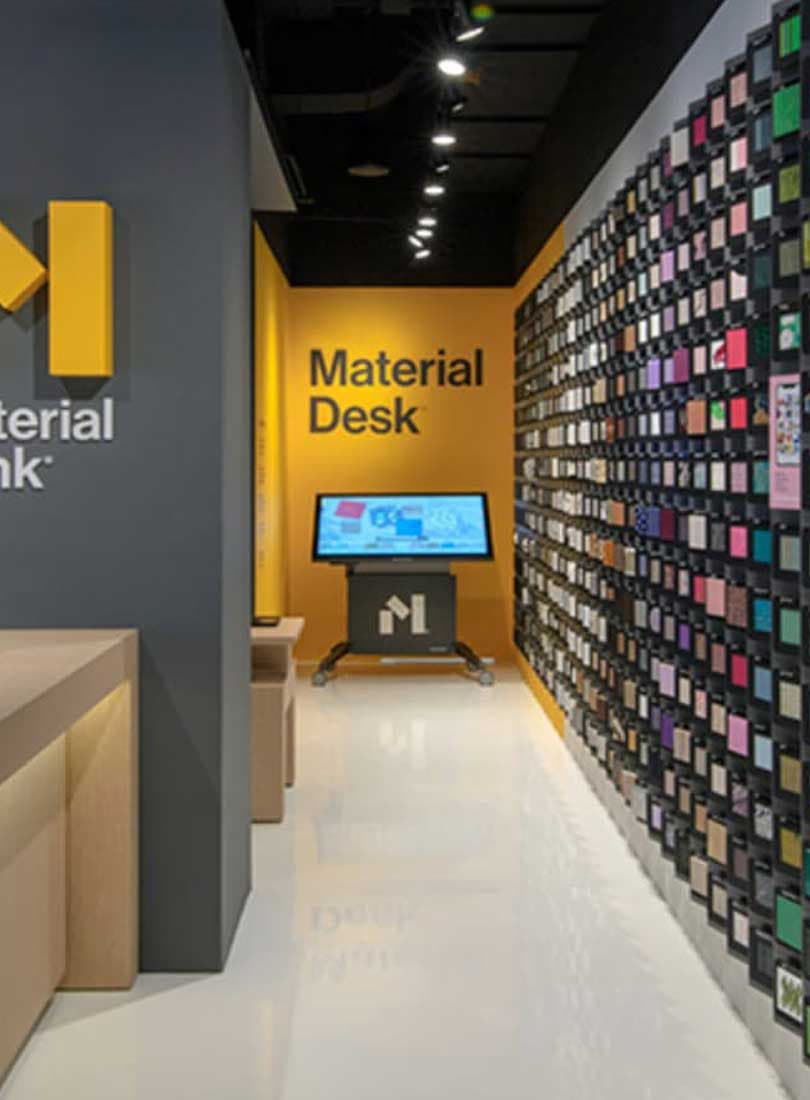 Material Bank Simplifies the Sampling Process
By Davina van Buren
Busy designers know what a hassle the sampling process can be: look through brand websites, select samples, create profiles on several systems…then the waiting game begins. Even a simple project can require dozens of samples, most of which come with excess packing materials that end up in landfills (or taking up valuable office space).
Material Bank, the revolutionary company founded by media mogul Adam Sandow, brought an end to all that. Sandow and his team spent two years studying design industry pain points from both the designer and manufacturer perspectives, then built a targeted and scalable solution: the world's largest material library.

How It Works
Material Bank allows designers to search for and order materials from hundreds of brands in one place. Browse flooring, wall coverings, tile, fabrics—plus specs, technical insights, performance data, and more—on one easy-to-navigate digital platform.
The service is free for designers, while manufacturers pay a fee to be part of the database. Obviously, this simplifies many aspects of the sampling process and saves precious time, but there's much more to the service.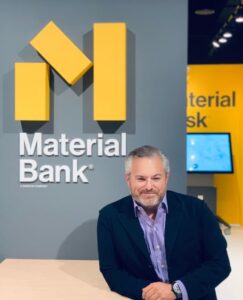 Samples With a Quickness
As the publisher of Interior Design, Sandow understands the sense of urgency many projects require, so the Material Bank platform is built with speed and efficiency in mind.
In fact, Sandow built the Material Bank logistics warehouse right down the street from the FedEx superhub in Memphis, Tennessee. Get your sample order in by midnight EST and they'll be on your desk by [10:30] the same morning.
Adam Sandow in the new Material Bank LabCourtesy of Interior Design
Eco-Friendly Packaging & Easy Sample Returns
Many samples end up as clutter or worse yet, in landfills. Material Bank's strong focus on sustainability attracts a wide swath of eco-conscious designers.
The company's proprietary packaging keeps waste to a minimum. Samples from multiple brands come in a single, sleek box that serves as a tray to hold (and travel with) your samples. Instead of individual wrapping, all soft samples come in a single package with no foam, peanuts, or bubble wrap.
Material Bank trays are reusable and returnable—they come with a postage-paid return label so you can easily pack up your unused samples and return them. Boxes are individually inspected and put back into the rotation to reuse, and a robust reclamation program allows returned samples to serve other designers.
Material Bank is always free for architects, designers, librarians, purchasing agents, and other specifiers. Have you used this service? If so, we'd love to hear about it. Informative Video